Registration
Registration Period
| | |
| --- | --- |
| Early Bird | From March 2 (Mon. JST 12:00) to June 19 (Fri. JST 11:59), 2020 |
| Regular | From June 19 (Fri. JST 12:00) to September 30 (Wed. JST 11:59), 2020 |
| On-Site | November 7 (Sat) - 8 (Sun), 2020 |
Registration Fee
Category

*1

Pre-Registration
On-Site Registration


November 7 (Sat) - 8 (Sun), 2020

Early Bird


March 2 (Mon. JST 12:00) to June 19 (Fri. JST 11:59), 2020

Regular


June 19 (Fri. JST 12:00) - Sep 30 (Wed. JST 11:59), 2020

Physician
 

Country List A

*2

JPY 45,000
JPY 50,000
JPY 55,000
 

Country List B

*2

JPY 25,000
JPY 30,000
JPY 35,000
Resident/Student/Medical Staff

*3

 

Country List A

*2

JPY 30,000
JPY 35,000
JPY 40,000
 

Country List B

*2

JPY 20,000
JPY 25,000
JPY 30,000
Accompanying Person

*4

JPY 20,000
JPY 20,000
JPY 20,000
*1

Above members can participate in gala dinner free of charge.

*2

Country List A – High-income and Upper-middle-income economies

Country List B – Lower-middle-income and low-income economies

The above classification (High-income economies, Upper-middle-income economies, Lower-middle-income economies and low-income economies) is based on the World Bank list here.

*3

Resident refers to the clinical trainee of up to two years after graduation. Resident and student are requested to

submit a status verification

at the reception form on the day of the congress.

*4

Accompanying Person registration is

limited to family members

and will be entitled to attend all scientific sessions, the Exhibition, lunch and gala dinner.
Online Registration Flow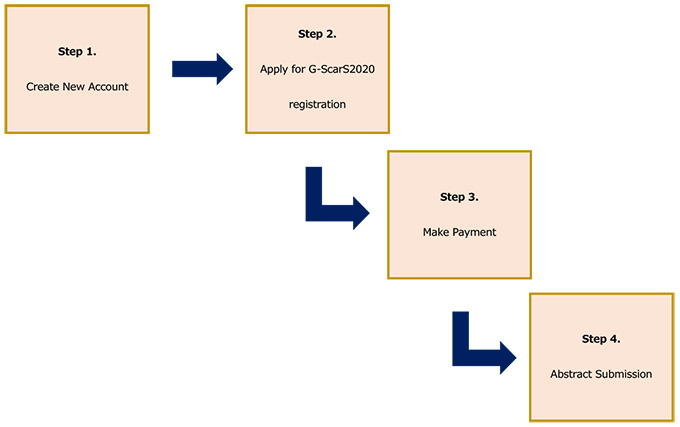 Access the online registration system through the button down this page and enter your profile.
Click "Create New Account" button and enter the registration information. After registration is completed, a URL for issuing a login ID will be sent to the registered e-mail address.
After logging in, click the "Registration" button on My Page and select your category. Finally, please complete the payment with a credit card.
If the payment of the registration fee is not completed by the Early Bird registration deadline, Early Bird registration will be cancelled. For those participants, Regular registration fee is applied. (After Regular registration deadline, On-Site registration is required and On-Site registration fee is applied.)
After the payment is Completed,

"Registration Confirmation"

can be printed out through the "Registration Confirmation" botton of On-line Registration page.


Please remember to bring and show the Confirmation at the reception of the congress venue to pick up your Name Card (with receipt) and Program Booklet.

The Confirmation can be printed as many times as you wish by November 8, 2020.
Payment
Pre-Registration must be made in Japanese yen and can only be made by Credit

Card (VISA / MASTER / NICOS / UFJ / DC / JCB / AMEX / Diners / Rakuten / TS3)
through the online registration system.

Please be assured that the information required for payment will be encrypted transmission to the credit settlement center and will not remain on this database.

On-Site Registration can be paid by credit card (Visa, MasterCard only) or cash (Japanese yen).
Cancellation / Refund
No refunds are available for cancellations.
Inquiry about Congress Registration
Congress Organizing Service Inc.

7-3-101, Uguisudani-cho, Shibuya-ku, Tokyo 150-0032, Japan
E-mail: g-scars2020@gakkai.co.jp